2014 NCPA Christmas Luncheon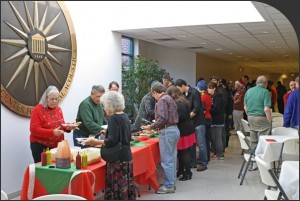 On December 11, 2014, NCPA hosted the annual Christmas Luncheon for all of the employees and their families, along with various employees from the Physics Department and the Office of Research and Sponsored Programs.  This event was organized by the Director, Dr. Josh Gladden, and the research group leaders to show their appreciation for all of the hard work performed by their employees.  This was a time of fellowship and reflection on the hard work performed and the fun we have experienced working at NCPA during the year 2014.  The event was a great success, experiencing enjoyable laughs and exceptional food!  Below is a link to photos of the event, courtesy of Dr. Cecille Labuda.
2014 NCPA Christmas Luncheon Photos
We had a remarkable 2014, and look forward to an even better 2015!