$2.8M NAVAIR R&D Contract Awarded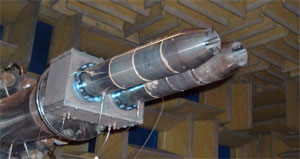 The NCPA Aeroacoustics Group has been awarded a $2.8M contract by the U.S. Naval Air Systems Command (NAVAIR) for "Performance Efficient Jet-Noise Reduction for Tactical Aircraft."  The program will utilize a method of applying a corrugated surface topology to the variable exhaust nozzle panels to reduce jet noise which was patented by Dr. John M. Seiner (US Patent 7,475,550 B2).
The corrugations yield a lobed nozzle shape which reduces both main components of jet noise: shock associated noise and eddy Mach wave radiation.  The awarded research and development program will seek a corrugation design that meets noise reduction goals of 3 dB with negligible performance impact and enhanced part reliability.  NCPA researchers will collaborate with both Combustion Research and Flow Technology, Inc., of Pipersville, PA, and AeroSystems of St. Paul, MN.  A partnership with General Electric Aviation has also been formed to ensure applicability of the design to current and future high-performance jet engines.